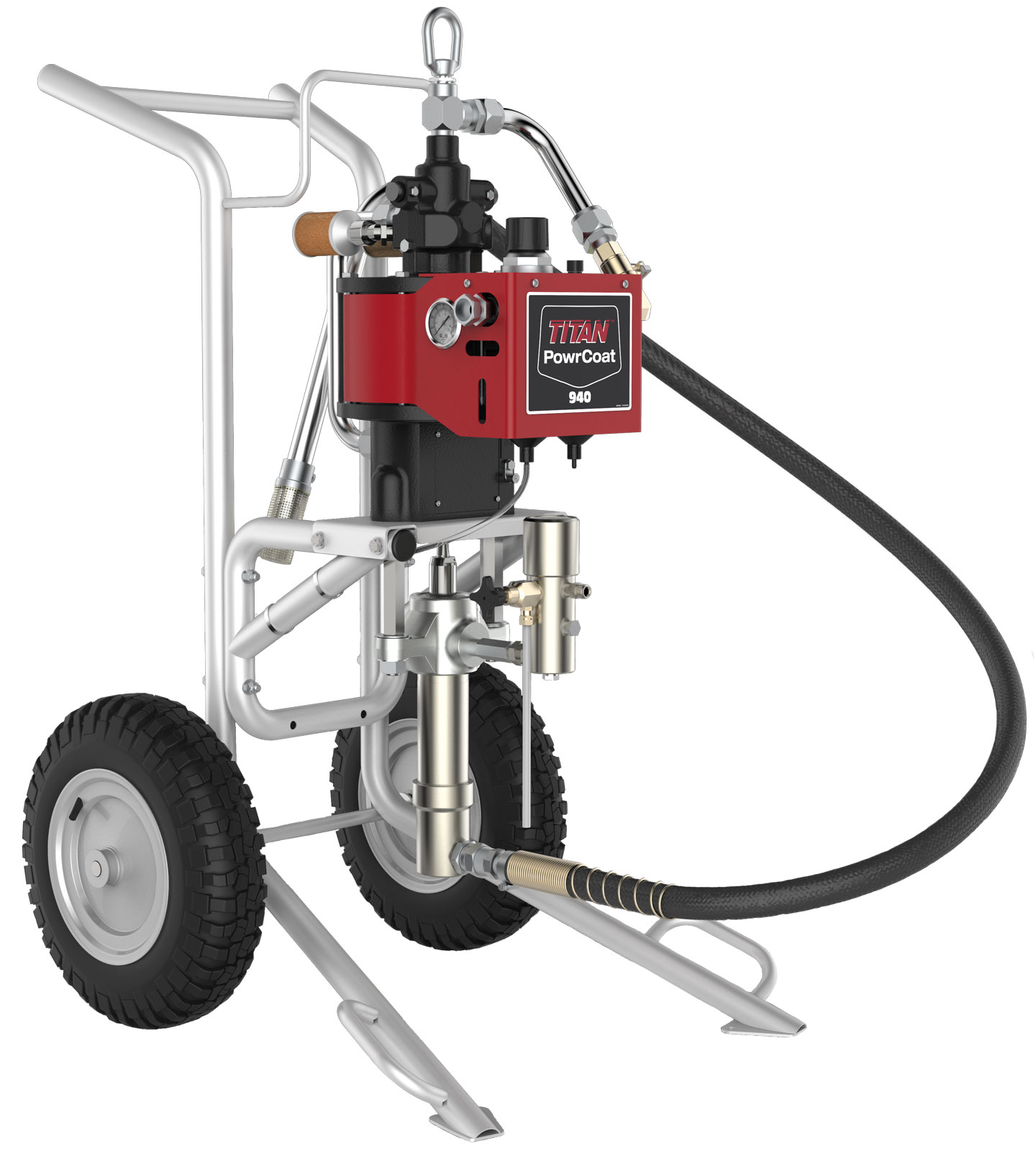 Titan Tough spray equipment
Paint more, Service less. Most items that are blasted are subsequently painted. For productive painting you need a tough reliable spray painting pump that will provide continuous usage without breakdown.
There is nothing quite as frustrating to a spray painter as having to keep stopping to repair the spray pump. Just when they get into the painting zone the damn thing creates bad spray patterns, lacks power, or starts squirting paint instead of spraying it.
What to do? Stop, clean out and adjust the gun and tip. If that doesn't solve it, then fix the air motor or the fluid end. Of course, all this is a total waste of time, and the last thing the painter wants to be doing. They just want to get the paint onto the surface as quickly, and with as little bother, as possible.
Reliability built in
The way to eliminate all this time wasting is to use a more reliable paint sprayer. And that is exactly what the Titan PowrCoat is. The reason it is more reliable? Simple, its built tougher. So tough it is virtually indestructible.
PowrCoat sprayers are built with the following to keep you painting longer and servicing less:
Air motor only requires servicing every 1,500 hours. With such a long period between services you can be sure the machine is built tough.
The direct mounted single spool valve, used to control the air motor, only has 5 moving parts. The spool valve has been used and refined by Titan for more than 30 years. Less moving parts means more reliability.
Tungsten carbide is one of the hardest materials known to man. Tungsten carbide valve seats with hardened stainless steel check balls provide better performance
and durability. Furthermore the fluid section is modular to allow for easier servicing.
The fluid end piston is precision machined and then Hard Chrome plated. Compared to the lower cost Chromex spray on coating, the Hard Chrome plating produces a finish that is harder for more abrasive resistance, smoother for less packing wear and tighter adhered for more durability.
Both the air motor and the FRL unit are properly protected by a heavy duty sheet metal shroud, not a cheap plastic molding.
The air motor cylinder is manufactured from Amalgon Epoxy instead of an aluminium extrusion. This ensures the cylinder is 100% round which provides more durability and efficiency.
Severe Service workhorse
Combine all these toughening up features you end up with a tireless workhorse paint sprayer that will give every spray painter what they want. Paint more, Service less.
Please note we offer Titan PowrCoat sprayers as an option extra and not as a standard part of a Porta-Blast.