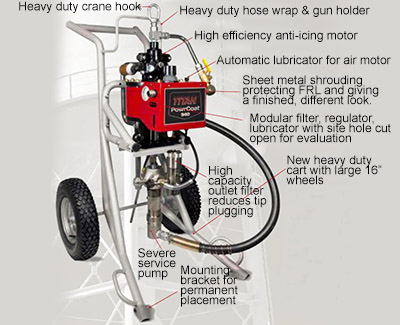 What would you call an airless spray painting pump designed in Germany and built in the USA?
If there were a single word for it, it might be "genauzah". Actually that is not a real word, but a combination of 2 German words that mean precise and tough.
The word genauzah may not be real, but the way it describes the Titan PowrCoat most definitely is. Perfect description…Precise and Tough. And the reason for this perfect description? Let us explain.
Titan Tool Inc. (USA) is a division of the German spray painting equipment manufacturer, WAGNER Group. As we all know Germany is, by a long way, the world leader when it comes to industrial machinery design and technology. Meticulous engineering design, testing and quality controls ensures anything coming out of that country meets exacting and precise standards, and you can count on its engineering excellence.
Titan Tool is from the USA. And, as we also know, Americans like their machines built tough. The land of the free is the most intensely competitive market in the world. If you have a product, and want to sell it in the home of the brave, you better make sure it is tough, reliable and long lasting. And that's exactly what Wagner/Titan have done when building the PowrCoat range of airless sprayers.
To ensure you spend more time spraying, and less time servicing, the PowrCoat is built with the following.
Severe ServiceTM piston pump is virtually indestructible and provides twice the life with half the maintenance.
The air motor cylinder is made from a highly durable composite resin. This anti-icing motor will provide continuous operation even in high humidity climates. No more down time due to iced motors.
The spool valve contains only 5 moving parts. This ensures quick positive motor reversal and simple maintenance.
Tungsten carbide valve seats and a hard chrome piston provide Severe ServiceTM long life and more durability. More time painting, less time fixing.
Self adjusting, spring loaded packings are designed for longer life and easy application of low VOC, high solid and abrasive coatings.
Every PowrCoat is also fitted standard with a complete FRL (filter, regulator, lubricator) unit. Both the air motor and the FRL unit are properly protected by a heavy duty sheet metal shroud, not a cheap plastic molding. Heavy duty crane hook, cart and lifting handles provide for easy moving around.
This is what makes the Titan PowrCoat such a tireless workhorse. A perfect combination. German precision and American toughness.
If you are looking for an industrial airless spray painting pump, you will want to spend more time applying paint and less time servicing your pump. Contact us and, if you are in our area, we will arrange an obligation free demonstration.
For want of a better word, we will now refer to the Powrcoat range as genauzah. And now you even know what it means.